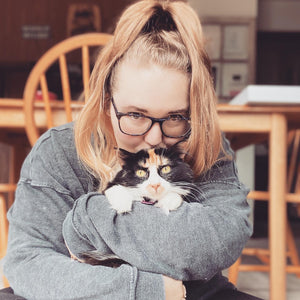 Who is the Artistry Studio?
Hi there! I'm Kaylin and I am the artist & owner behind The Artistry Studio. If you can't tell by looking at my art, I kinda have a thing for color and textures. I love painting and creating digital art that screams in vivid color. I want my art to make you happy like it does for me.
Here on my website you will find my listings, schedule of live events, social media links, customer reviews, previous commissions, and more. 
My dream is to continue building this little business  into a full time job so that I can wake up every day knowing that I'm doing something I love. Thanks for joining me on my journey!
Testimonials
Love love love these stickers! The sticker pack is an awesome way to get a few of my faves and save; love going through and picking which designs I want. Stickers are gorgeous -high quality and vibrant, very well made. Shipped quickly and arrived in perfect condition. So pleased with my purchase and definitely recommend The Artistry Studio to all!

Amanda H.
Not only was it shipped on time, it was in perfect condition. This picture caught my eye right away. The Artistry Studio is superb in all areas! Thank you for a magical experience all around, I highly recommend!

RQB
I was so excited to get this piece! I had been eyeing it for a while, and it's one of my favorite purchases ever. Great texture, color, and quality. Fantastic, quick service as well. Thanks, Kaylin!

Darby F.
I love anything that Kaylin makes! It is always packaged so lovingly and so that it makes it to me without breaking. My home is always brighter when I have a piece of her art in it! Thanks, Kaylin!!

Kathy B.
Beautiful, crisp colors. Shipped super quickly. Can't wait to display this in my living room!

Darby F.